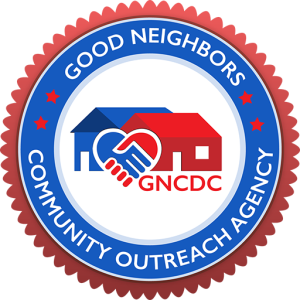 OUR HISTORY
Good Neighbors Community Outreach Agency (GNCDC) was organized in 2015 to advance the NE Bronx through programs and services that expand opportunity, reduce poverty and nurture the cultural diversity of the region.
The organization furthers its mission by researching economic, workforce, and demographic trends to identify challenges that impede progress for the region and its people.  To address those challenges GNCDC works progressively and from multiple angles, including:  Providing feedback to Elected Officials to develop responsive public policies; Developing plans for the building of institutional and community capacity for progress; inform the public dialog on community services and development issues and administer effective programs.
GNCDC has spent the last 10 years educating the large immigrant population of the positive ways to enter the workforce, removing the barriers between people and jobs, providing access to clothing and food supplements.  GNCDC is now working to facilitate a more stable, high-performing, multiracial society where  economic, workforce, and community development work for all who aspire to the American Dream of home ownership. GNCDC is a private, nonprofit organization supported with grants, contracts and in-kind donations from foundations; federal, state, and local governments; and the private sector.